Home » PICHPOSH Soak & Melts

PICHPOSH Soak & Melts
---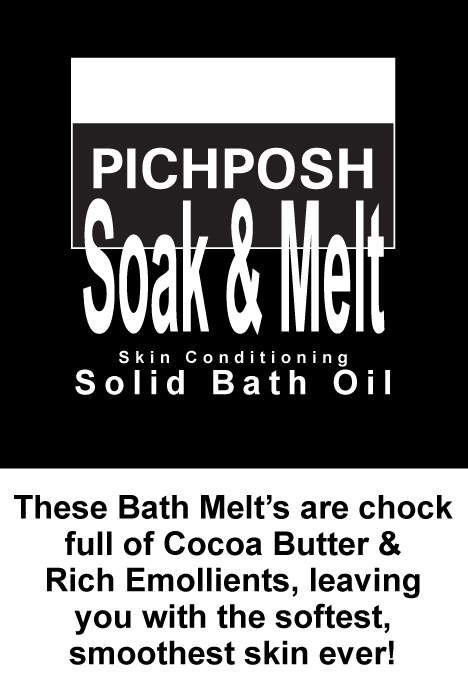 Appropriately named, the PICHPOSH Soak & Melt is a complete body conditioner that's so relaxing the bar isn't the only thing melting. Made with the best essential oils and fragrances and smothered in rich emollient cocoa butter, this premium solid bath oil softens from the mild to the wild of dry skin while melting the soul. This is nature's best way to soften and lubricate the skin. While bathing add one PICHPOSH Soak & Melt to your water and discover the PICHPOSH Experience.

(* Please Note: Every third item, in the same price point, is half price! This is NOT reflected in the Shopping Cart, the discount will happen when we process the order on our end. Thank You.)

Also Soak & Melts and Frappés are the same price and can be "Mix & Match" to make a multiple for the Discount.
Burnt Crème PICHPOSH Soak and Melt
Butter Rum PICHPOSH Soak and Melt

| | |
| --- | --- |
| $CAD 7.50 | |

| | |
| --- | --- |
| $CAD 7.50 | |

Burnt Crème PICHPOSH Soak and Melt - Inspired by our favourite dessert: crème brûlée. This Bath Mel...More
Butter Rum PICHPOSH Soak & Melt Skin Conditioning Solid Bath Oil. Butter Rum, Inspired by candy we a...More
Cinnamon Sugar PICHPOSH Soak and Melt
Nag Champa PICHPOSH Soak and Melt

| | |
| --- | --- |
| $CAD 7.50 | |

| | |
| --- | --- |
| $CAD 7.50 | |

"Cinnamon Sugar" Whether morning, noon or night, this scent is the perfect little treat! This Bath M...More
Nag Champa PICHPOSH Soak and Melt - Flowers, herbs, spices & essential oils are blended to perfectio...More
Patchouli Raspberry PICHPOSH Soak and Melt

| | |
| --- | --- |
| $CAD 7.50 | |

"Patchouli Raspberry" A Fresh Twist to an old Favourite. Rich and Woody with a dash of Fun! Our Bat...More