Home » PICHPOSH Mango Butter Bath Frappé

PICHPOSH Mango Butter Bath Frappé
---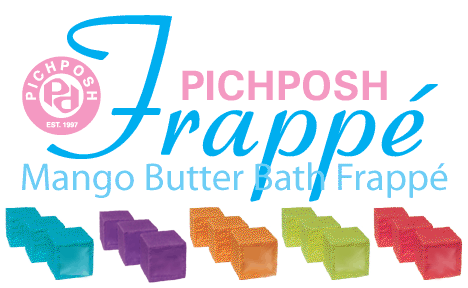 A Solid, fruit-scented mixture that is similar to Sherbet and treats you like a Dessert or Appetizer as it pours healing Mango Butter over your body! This product follows in the foot steps of the always popular PICHPOSH "Soak & Melt". These bath cubes are drenched in rich, sensuous mango butter to produce a healthy looking smooth finish to your skin.

(* Please Note: Every third item, in the same price point, is half price! This is NOT reflected in the Shopping Cart, the discount will happen when we process the order on our end. Thank You.)

Also Frappés and Soak & Melts are the same price and can be "Mix & Match" to make a multiple for the Discount.
Guava Frappé - Solid Bath Oil (3 Bath Cubes)
Kiwi Frappé - Solid Bath Oil (3 Bath Cubes)

| | |
| --- | --- |
| $CAD 7.50 | |

| | |
| --- | --- |
| $CAD 7.50 | |

"Guava Frappé - Solid Bath Oil (3 Bath Cubes)" - Juicy and tropical. Paradise lies within! A Solid, ...More
"Kiwi Frappé - Solid Bath Oil (3 Bath Cubes)" - Enjoy this sweet, fuzzy, green "Chinese Gooseberry"!...More
Mango Ice Tea Frappé - Solid Bath Oil (3 Bath Cubes)
Orange Frappé - Solid Bath Oil (3 Bath Cubes)

| | |
| --- | --- |
| $CAD 7.50 | |

| | |
| --- | --- |
| $CAD 7.50 | |

"Mango Ice Tea Frappé - Solid Bath Oil (3 Bath Cubes)" - A spectacular blend of ripened mango with ...More
"Orange Frappé - Solid Bath Oil (3 Bath Cubes)" - Fruity refreshing citrus, the Ultimate Orange ! ...More
Tropical Lime Frappé - Solid Bath Oil (3 Bath Cubes)

| | |
| --- | --- |
| $CAD 7.50 | |

"Tropical Lime Frappé - Solid Bath Oil (3 Bath Cubes)" - Fruity refreshing citrus, the Ultimate Oran...More